If you are a frequent trekker, buying one of the best trekking bags in India from a reputed brand would definitely be a good idea. It is an absolute necessity for hikers, campers and trekkers, especially if you go for rough terrains or places in harsh weather. Besides easy handling, durability and portability, a good quality trekking bag will also help you save money on repair costs.
It would be wise to weigh your options based on your requirements, comfort, budget, convenience and other factors. To make your task much lighter, we have compiled a list of top 10 trekking bags that are value-for-money in 2023.
The Best Trekking Bags In India (2023)
How Useful is Tripole's backpack for trekking?
Are you searching for a versatile backpack that would cover your needs with a comprehensive range of features? This one, from Tripole, is one of the ideal trekking backpacks for you. The design of this trekking backpack would enable you to store all the items in a well-organized manner and access them easily when needed.
For instance, the bottom opening compartment offers a place to store soiled clothes, shoes and even a sleeping bag, separated from the main compartment by a fabric. The pockets at the sides of the backpack are easily accessible and would allow you to store essential things within easy reach.
In addition to the spacious compartments and pockets, this 80L rucksack also comes with a detachable daypack of 12 litres capacity. You may use the daypack together with the rucksack when you need more space, carry it separately as a small backpack, or exclude it entirely from all.
If you are lodged at a hotel and wish to explore the city, you could even leave the rucksack at the hotel and simply set out with the daypack. This is indeed a great feature, giving you some flexibility on how you would backpack depending on the journey. If you are planning a trekking trip for more than 7 days, there is no better option than this bag.
Why Should You Choose Tripole trekking bag?
It is one of the best bags for trekking in India due to its spaciousness, flexibility and organization. You can keep all your camping supplies stored within easy access, separating them as needed. The detachable daypack is an added perk, giving you more flexibility on how you wish to utilize the storage space.
Recommended: Top 10 Travel Backpacks in India
How Useful is Wildcraft's backpack for trekking?
With a capacity of 60 litres, this rucksack offers ample space for all the trekking essentials you have to carry. The compartments are large and spacious, with smartly positioned pockets. These include a zippered pocket at the front, balloon pockets on either side and a gusseted pocket in the hood. Together, these would enable you to keep all your belongings adequately arranged.
The manufacturer, Wildcraft, is definitely one of the best trekking bag brands in India. In fact, Wildcraft specifically focuses on manufacturing high quality backpack bags, which is one of the reasons behind their success in this arena. You may stay assured that your bag would be a top-notch product and great value for money.
One of the factors that help this bag stand out from the rest is its material. The high-grade nylon is pretty tough and durable, which is an absolute necessity for a trekking. The material also adds a great degree of water resistance to the bag, which would help keep your belongings safe. However, the backpack does not come with a rain cover for further protection in monsoon.
Why Should You Choose Wildcraft trekking bag?
The key advantage of this trekking backpack is the convenience it offers. Its ample compartment space and pockets would allow you to carry all your items without any hassle. Unique features like lightweight, balanced load capacity and ease of use make the bag suitable for trekking.
How Useful is Trawoc backpack for trekking?
If you are looking for a rather large backpacking bag, this one might be the right one for you. Its 80-litre capacity should be enough to fit all your trekking and camping supplies, and the laptop compartment is quite spacious and well-padded as well.
Besides your laptop, you will also be able to carry other necessary trekking equipment safely in this backpack. Such a high capacity is suitable for long treks like Kashmir Great Lakes Trek or Goecha La Trek.
One of the most striking features of this backpack is its trendy look. If you are searching for a backpack that can be stylish without compromising on functionality, this one is likely the perfect trekking bag for you. The material is of reasonably good quality too, and you may expect the backpack to last long.
Thanks to the ergonomic frameless design and the excellent padding, you will be able to enjoy a comfortable trek even while covering long distances. The honeycomb mesh fabric back panel ensures a spongy surface that would prevent backaches. Its design also makes the back panel breathable and sweat-resistant.
Thanks to the 3-step adjustable straps and the chest strap, the backpack also fits nicely on different body shapes. In terms of comfort, this backpack is essentially a fantastic option.
The front zipper compartment would be especially helpful in allowing you to keep all your belongings well-organized and easy to access. The side pocket is conveniently positioned as well, making it an excellent place to store items that you may need at any time.
Why Should You Choose Trawoc trekking bag?
Stylish, spacious, and comfortable, this backpack offers everything you would ask for under ₹3000. Especially if you go on long treks and have to carry many supplies, this is the ideal trekking bag for you. The well-balanced weight distribution and the ample padding would enable you to trek comfortably for long distances.
Suggested Read: Top Rucksack Brands in India
How Useful is Hiker's Way Bag for trekking?
This bag is definitely a good one for trekkers looking for a supremely well-fitting and comfortable trekking bag. It comes with dual compression straps, adjustable straps, and adequate padding on the shoulder straps to hold the bag in place, fit it well and distribute the weight evenly. Additionally, the ice axe loops are very handy if you are planning to trek in winter.
The strong polyester used in making this backpack is quite durable and can withstand a great deal of wear and tear. As the material is waterproof, it does not require an external rain cover. This also makes the luggage bag suitable for carrying electronic equipment, such as cameras.
The backpack also happens to be quite spacious, with a capacity of 60 litres. It offers enough compartments and pockets to keep all your stuff organized properly. Especially if you are going on an exciting camping trip, the bag will prove to be helpful.
Why Should You Choose Hiker's Way trekking bag?
The straps of this backpack constitute a significant factor that helps it stand out from the rest. It prevents heavy items from moving around and causing a disbalance by keeping everything in place. It also helps prevent backaches, too, especially among relatively older hikers. Together with these benefits, excellent waterproofing and lightweight design, it is value-for-money under ₹2000.
5. Quechua by Decathlon 30 L Mountain Trekking Backpack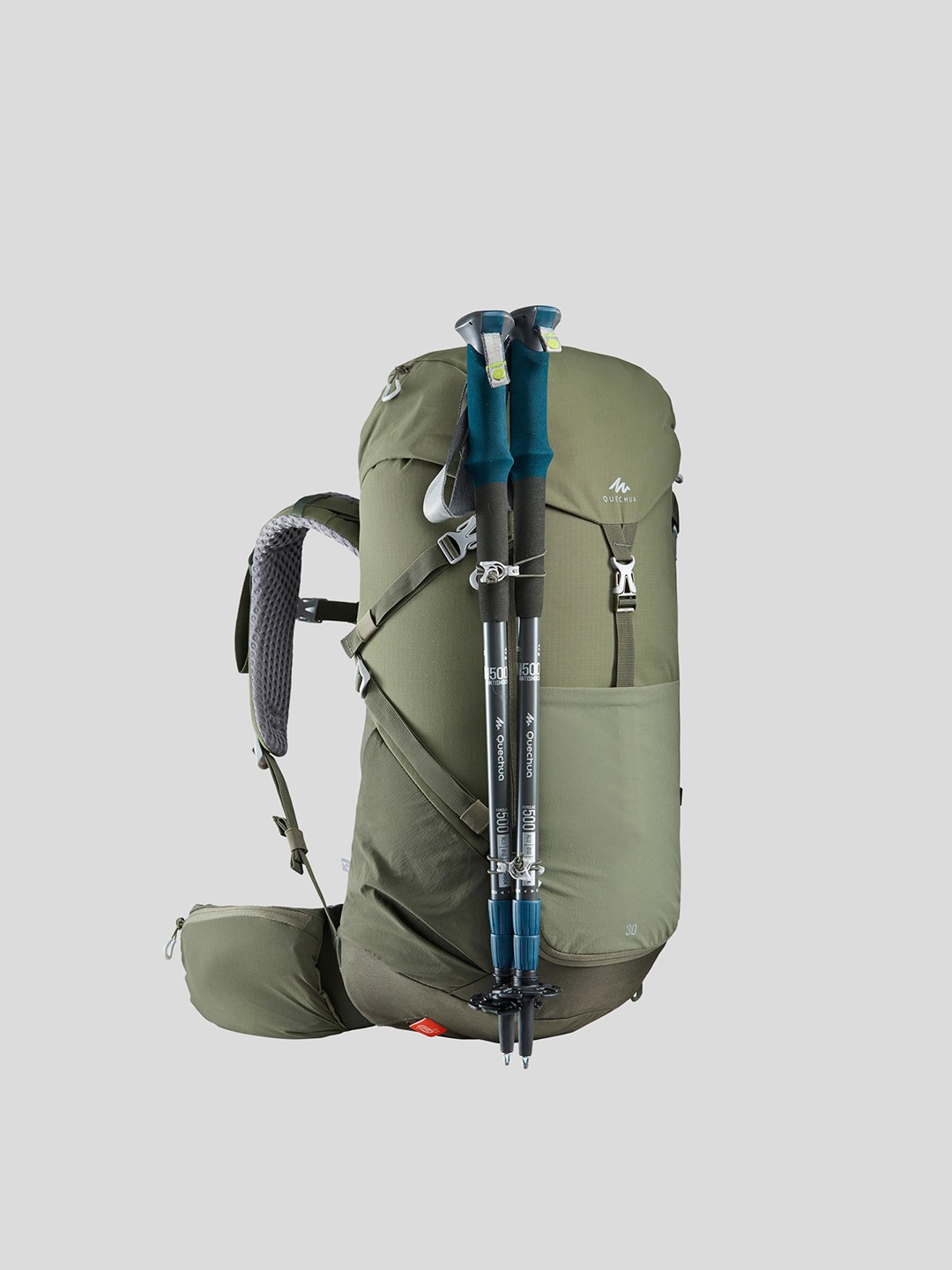 Specs & Features
How Useful is Quechua backpack for trekking?
If you plan to go for ultralight backpacking, this 30-litre backpack from Quechua should have your needs covered. Such lightweight, compact size, and cylindrical shape of the trekking bag make it easy to carry around on short treks with 1-3 days duration like the Kheerganga trek or Bhrigu Lake Trek.
The padded back panel and straps make the backpack comfortable to wear for long periods. The broad waist strap would further add to the wearer's comfort, helping to spread the weight evenly.
Made from high-quality polyester, the backpack's body is resistant to damage. The bag also requires minimal maintenance, as simply wiping it with a damp cloth would be enough to clean it up.
In addition to the excellent water resistance of the material, the backpack also has a large rain cover to protect it from rain. The entire design principle of this lightweight backpack makes it perfect for children or individuals who prefer travel light.
Why Should You Choose Quechua trekking bag?
Quechua is one of the most preferred and reputed trekking bag brands in India. Lightweight and compact, this backpack certainly has its perks. If compactness and portability are a priority and you are fine with a smaller backpack, this one is your best option.
How Useful is Mufubu's backpack for trekking?
It is an excellent choice for those looking for a trekking bag that balances style and functionality with price. Its attractive travel-themed design would help set you apart from the rest. The manufacturer, Mufubu, has strategically implemented design elements even in the zippers to make this bag stylish.
As the backpack has a capacity of 55 litres, it is perfect for hikers going on short or medium-distance treks. This, together with the light material, makes this bag perfect for ultralight backpacking.
Despite being compact and lightweight, the backpack offers a shoe compartment that would allow you to store soiled shoes away from the other stuff. The stretch mesh pockets on the sides of the backpack also provides space to store water bottles and other smaller items. It also has a top cover for added security of your belongings.
The ergonomics of this trekking bag also make it highly comfortable to carry. The S-design integrated into the straps would help reduce stress on the wearer's back. Moreover, the ventilated back panel would reduce sweating, a common problem during treks. The pricing of this backpack is quite reasonable too, making it a good pick for those with a limited budget.
Why Should You Choose Mufubu trekking bag?
If you are looking for the best budget trekking backpack under ₹1000 with good value for money in terms of spaciousness, design, convenience, and looks. You may go for it if you do not need to carry too many items on your trek. The comfort of the back panel and the ergonomically designed straps definitely deserve special mention.
How Useful is Polestar backpack for trekking?
The bag from Polestar is one of the best affordable trekking backpacks in India. Lightweight, durable, water-resistant and spacious– it offers everything that a backpack should have to give a good value for money.
This bag's adjustable and breathable shoulder straps make it comfortable to carry along while trekking. Additionally, I have found the S-shaped design of the straps and the padding on the back panel helps in relieving stress and protecting your back.
In addition to the fact that a 55-litre backpack is enough for most treks, the design of this bag also adds to the spaciousness. You may easily carry a tent, hammock, enough clothing, and all the other camping supplies you need during your travels.
The bag's material is precisely what you would want during trekking. Even if you trek often, you may expect this bag to last quite long. Overall, this is an excellent mountain trekking backpack under ₹1500, ensuring a comfortable trek and ample space for your belongings.
Why Should You Choose Polestar trekking bag?
This backpack is suitable for trekking comprehensively, covering a hiker's needs quite well. Its spacious nature would ensure that you can easily carry all your trekking supplies in this bag. Despite the bag being large, carrying it on your back wouldn't be a problem even when trekking for long distances. This is because the backpack's very design helps distribute the weight evenly and absorb some of the stress into the padding.
How Useful is F Gear backpack for trekking?
Well-designed and compact, this trekking bag from F Gear is a good pick if you are planning for shorter treks with less than 7 days. With spacious compartments and a total capacity of 50 litres, the backpack can easily fit all your essentials.
Moreover, the several zippered pockets would also enable you to keep your stuff safe and well-organized. The extra straps over the top secure the opening and would help prevent thefts.
The compact design of the bag makes it easy to carry while trekking uphill. The straps and the waist belt are adjustable and ensure that you can make the bag fit your body shape.
The F Gear trekking bag also comes with a small detachable bag that would come in handy while travelling. The robust material quality of the bag ensures excellent durability too, which implies that you need not worry about frequent repairs even when you use this backpack quite often.
F Gear, the brand, has quite a good reputation when for offering great quality backpacks for travelling, trekking, hiking and camping. All aspects considered, this bag is an excellent choice if you are trying to travel light and avoiding a bulky backpack.
Why Should You Choose F Gear trekking bag?
This is a perfect choice for individuals who want a compact and portable backpack for trekking. The zips and the straps would help to keep your belongings safe and sound, while the pockets would make it easier to organize all the stuff. Thanks to the extendable shoulder straps and the adjustable waist belt, the backpack would also fit comfortably. The unisex design of the backpack makes it suitable for girls too under ₹2000.
How Useful is Fur Jaden backpack for trekking?
Fur Jaden is a trekking bag brand in India, well-known for offering stylish and good quality products at reasonable prices. Like their other top travel bags, this one stands out with an eye-catching exterior design too.
If you are looking for a trekking bag that looks stylish but does not really want to spend a lot, this one would be your best pick. In addition to its looks, the backpack's quality and functional design make it an excellent choice.
With a 55-litre capacity, this backpack offers enough storage space for moderately long treks like the Sandakphu trek or Kuari Pass Trek. Its design also includes several additional storage features.
For example, it comes with durable loops to hang tripod camera stands, trekking poles and other equipment. Moreover, the bag also has a shoe compartment that would allow you to store your soiled shoes after a trek separated from the rest of your stuff.
Besides the fact that the fabric used in the body is water-resistant, it is also strong enough to withstand wear and tear. Other components, such as the buckles, the zippers and the metal pullers, are pretty durable. Hence, you may stay assured that frequent repairs aren't something you should be concerned about.
The backpack is also great in terms of ergonomics, ensuring a comfortable trek. The shoulder and waist straps balance the weight distribution well, transferring most of the weight to the torso. Not only are these straps padded, but the waist straps also offer ventilation to help avoid sweating and ensure greater comfort than most backpacks.
Why Should You Choose Fur Jaden trekking bag?
If laptop compatibility doesn't really make or break the deal for you, this Fur Jaden backpack is a superb choice. While its stylish looks set it apart from other trekking bags, so does its functionality. If you are looking for the best Indian trekking bag for men, it is your ideal choice under ₹1000.
How Useful is Hyper Adam backpack for trekking?
For trekkers looking for a 65L trekking backpack, it is a perfect choice. Several straps positioned on the backpack's exterior would help to hold it in shape and prevent it from bulging outwards in a way that may prove to be inconvenient.
In addition to the large and spacious main compartment, the bag also comes with several smaller compartments and pockets. These include a designated shoe compartment, a side pocket and a hood pocket with an adjuster. Hence, you may stay assured that there would be enough space to carry all your items and keep them well-organized.
The bottom of the trekking bag comes with hard padding to protect the bag's fabric while placing it down on a rough surface. The backpack's design makes it easy to carry, in addition to the fact that the material is relatively lightweight. The long thread runner on the zipper would enable you to close or open it seamlessly. You can also adjust the straps, and this, together with the ergonomic design, helps in even weight distribution.
The manufacturer is quite reputed and usually offers quality products. The same applies to this backpack, which is evident in its tough and durable material. It can withstand a great deal of wear and tear in the course of your travels.
Why Should You Choose Hyper Adam trekking bag?
The overall design of this backpack makes it one of the best trekking and camping backpack under ₹2000. While the bag is robust and spacious, it's not inconveniently bulky. The manufacturer has added plenty of straps and positioned them strategically to hold the bag in shape and make it easy to carry.
Here Are The Best Trekking Backpack Brands
1. Wildcraft
Known mainly for the quality and durability of their trekking bags, Wildcraft definitely tops the list. The brand has built up an amazing track record over the years, offering backpacks that last long despite heavy usage. As this brand has a massive range of backpacks, you can easily buy a trekking bag that suits your needs well.
Wildcraft's popularity itself speaks volumes about the place that the brand has earned in the market. A little over two decades old, the company already records sales worth more than 100 million USD annually.
2. Trawoc
If you prefer to shop from a brand specializing exclusively in travel and trekking bags, Trawoc is your best option. Specializing in this category has allowed Trawoc to bring some excellent products to the market, making them one of the most reliable travel backpack brands.
Notably, Trawoc also does a great job of balancing style with functional value, designing backpacks that stand out from the rest. If you wish to purchase a suitable trekking bag from every aspect, Trawoc is indeed a great brand to pick.
3. Quechua
Marketed by French sports and adventure gear company Decathlon, Quechua is another leading backpack brand in India. The fact that Quechua offers products meant explicitly for extreme sports, or harsh weather conditions naturally makes them one of the top picks among the reputed backpack brands. You should also note that Quechua puts in a great deal of effort to make their trekking backpacks as comfortable and portable as possible.
For example, the Quechua backpack listed above is lightweight and well-padded enough to ensure a comfortable trek even for children. Moreover, Quechua also works with hikers not associated with the brand to test their backpacks in real-world conditions.
4. Tripole
Tripole is one of the best brands for trekking bags in terms of versatility and quality. The brand builds its bags keeping in mind various features that travellers would find to be extremely useful. If you are a photographer and have to move with various equipment while hiking, a good backpack from Tripole would certainly help carry them safely.
Other notable features in this brand's trekking backpacks include waist pockets, carabiner loops, plenty of utility pockets, etc. Designed for optimum functional value, Tripole backpacks are relatively more multipurpose.
5. Mufubu
Mufubu is the best trekking bag company in India, suitable for hikers planning to travel lightweight and budget-friendly. This company offers various compact bags made from lightweight materials without compromising much on usable space.
Mufubu's trekking backpacks have large compartments, a shoe compartment, and pockets designed strategically for greater convenience. The padding on the back panel and the straps of this brand's bags are pretty good too.
How To Choose The Best Trekking Bag In India?
With such a vast range of products available, choosing the best trekking bag isn't an easy task. Here is how we evaluated the various options and decided which ones to recommend. These are factors that you should always consider while shopping for a trekking backpack.
Choosing the right backpack capacity
First and foremost, you should decide on a suitable backpack size depending on your requirements. If you generally go on long treks, a smaller backpack simply wouldn't provide you with enough space for all your equipment, clothes, and other supplies. Similarly, a massive backpack with 80L or higher capacity would be unnecessarily bulky if you don't really need it.
You should notice that we chose backpacks of different sizes in the list of the top ten trekking bags. This would help you find a great backpack regardless of the size you are looking for. You may consult the chart below if you need some help deciding what backpack size would be suitable for you-
| Trip Length | Backpack Capacity |
| --- | --- |
| Short trek (1 day) | 30L (5 kg) |
| Long treks (up to 5-6days) | 40L, 50L, 60L (8 to 13 Kg) |
| Expeditions (Over a week) | 70L, 80L, 90L (15 to 30 Kg) |
While you can easily carry your trekking bag on trains or buses, there are some complications to carry it on flights. Airlines have certain guidelines for the size and capacity of the bag, which you must consider when planning your trip.
Different types of trekking backpack frames
The frame of a backpack largely determines how it would distribute the weight. There are three types of trekking backpacks and rucksacks based on the frame-
Frameless backpack
External frame backpack
Internal frame backpack
If you are into ultralight backpacking, you can simply go for a frameless backpack. These backpacks are relatively compact and lighter but may get uncomfortably bulky if you carry heavy loads.
An external frame backpack would have a supporting structure to transfer most of the weight to the hips. These backpacks are perfect if you carry an unevenly distributed load, such as a kayak or a large piece of equipment.
However, internal frame and frameless backpacks are the most common among the best quality bags for trekking in contemporary times. These backpacks have an internal frame that offers vertical stability and distributes weight properly. The Tripole backpack mentioned earlier is a great example, with a strong internal frame consisting of a plastic sheet and an aluminium rod.
Comparison: External Frame Vs. Internal Frame Vs. Frameless Backpack
Considering size, weight, comfortability
Of course, comfort is a significant factor to keep in mind while buying a trekking bag. You wouldn't want to start suffering from body aches while trekking up a mountain or beach hiking just because your backpack isn't comfortable enough. The ergonomics of a backpack play a major role in ensuring a comfortable journey by distributing the weight as efficiently as possible.
In this regard, the size and the dimensions of the backpack require attention. The bulkier and heavier your backpack, the less comfortable it would be to carry. The backpack from Quechua, for instance, is exceptionally light and portable, making it perfect for short treks.
Fabric/material quality and durability
The fabric used in manufacturing a backpack is the most crucial factor determining its durability. You would essentially want a bag made of solid and high-quality fabric that wouldn't suffer damages from wear and tear too quickly.
Polyester is one of the most popular choices among backpack brands due to its damage resistance and affordability. Moreover, polyester backpacks like the one from Wildcraft also have excellent water-resistance capabilities.
Waterproofing and rain cover of trekking backpack
If you are going on a trek, it is an absolute necessity to keep your stuff protected from rain. This especially applies to hikers who have to carry electronic equipment such as a laptop or camera. While waterproofing is a common feature that you would find in any trekking backpack, not all have the same water resistance level.
Apart from a water-resistant coating, a rain cover would be helpful too. Despite the waterproofing, rainwater can still seep in through vulnerable areas like the lining along with the zippers. The non-waterproofed areas can also get wet and grow heavier. A rain cover, such as the one with the Quechua backpack, can better protect against rain.
Checking padded shoulder and waist straps
The comfortability of a trekking bag depends significantly on the padding on the shoulder and waist straps. Adequate padding would help absorb some load and prevent the straps from hurting your body.
Especially if you plan to carry heavy loads, try to choose a backpack with thick padding on the straps and the back panel. Also, make sure that the padding design facilitates ventilation, as it would help reduce sweating. This is why the Trawoc backpack listed among the top ten is very comfortable to trek with.
Availability of lots of pockets and compartments
Besides buying a spacious backpack, make sure that you can use the space efficiently by storing your stuff in a well-organized fashion. The availability of many pockets and compartments is an essential factor in this regard. Pockets help keep smaller items within easy access without worrying about losing them at the bottom of the backpack.
A shoe compartment, such as the one available in the Wildcraft backpack, would be of great help too. If you travel with a laptop, definitely buy a bag with a dedicated laptop compartment. You can also carry gadgets like binoculars and cameras in the bag and use it to get a glimpse of your destination from a mountain top.
Some trekkers like us are also fascinated by drone photography of the mountain terrains, breathtaking waterfalls, or picturesque rivers during trekking trips. For this reason, we save extra space for accommodating a sleeping bag inside the backpack. Good quality sleeping bags are easy to roll and attach to the bag.
Frequently Asked Questions (FAQ)
Which material is suitable for trekking bags?
While shopping for a trekking bag, you would come across a number of excellent materials like polyester, canvas, polypropene, etc. However, trekking bags are mostly made of polyester due to their strength, durability, and water resistance. Polyester is a reliable choice, as long as the backpack is from a good brand.
How to pack your trekking bag?
One of the keys to enjoying a comfortable trek is to pack your bag correctly. Improper weight distribution can cause the bag to tilt, put excess pressure on your shoulders, or make one side heavier than the other. Pack all the bulky gear you wouldn't need immediately at the bottom, followed by the dense and heavy items around the core. The bulky essentials should be next, while the topmost layer has all the items you need during the trek. This way, you can shift most of the weight to your waist while keeping all the important stuff accessible.
How to wear a trekking backpack?
While wearing a trekking backpack, ensure that it stays high on your back and doesn't swing from side to side. If the backpack has a chest strap or a waist strap, use it for better weight distribution. You may need to adjust the straps depending on the thickness of your clothes. Wearing your bag properly would help prevent back pains.
Which brand is best for a hiking backpack?
All the earlier brands are excellent choices, but Wildcraft, Trawoc, Quechua and Mufubu are the most reputed. As each of these brands has its own USPs, consider your priorities and narrow down the options accordingly. For instance, if durability matters the most to you, Wildcraft is your best choice.
How to choose the best backpack for trekking?
While shopping for a trekking backpack, take a comprehensive approach to evaluate your options. Choose a backpack that offers adequate space, all the necessary features, and comfortable carrying. While comparing the backpacks based on their features, consider the pricing and filter the options based on your budget.
So, Which Are The Best Trekking Bags For You?
Now that you have a list of the ten best comfortable bags for trekking in India and have taken a look at their reviews, you might be trying to pick the ideal one. Even with detailed information available on all the products, it can often be hard to decide which of these would be the most suitable one for you. To make it easier, we further evaluated the top ten and shortlisted these top three backpacks-
These three backpacks are fantastic choices, each offering its own perks. As long as the size is suitable for your trekking habits, you cannot go wrong by choosing one of these three backpacks. Now that you have gained some detailed insights into the products, you should be able to make an informed decision while purchasing one in 2023.
Hopefully, this guide on trekking bags will prove to be helpful, and you can buy a suitable backpack. While finding the right one can take some time, a good hiking backpack can serve you well for several years.